Who is K Sudhakaran?
K Sudhakaran or Kumbakudi Sudhakaran born on 7 June 1948 is an Indian politician and president of the Kerala Pradesh Congress Committee (KPCC). He was also the former Cabinet Minister in the Government of Kerala.
Kannur MP K Sudhakaran Latest News
The Congress high command Tuesday picked Kannur MP K Sudhakaran to head the party's Kerala unit replacing Mullappally Ramachandran.
Sudhakaran, 73, was named the KPCC chief following consultations between Tariq Anwar, the general secretary in-charge of the state, and MPs, MLAs and senior leaders of the party. It is speculated that former Leader of Opposition Ramesh Chennithala, former chief minister Oommen Chandy and Ramachandran did not specify their choices for the post.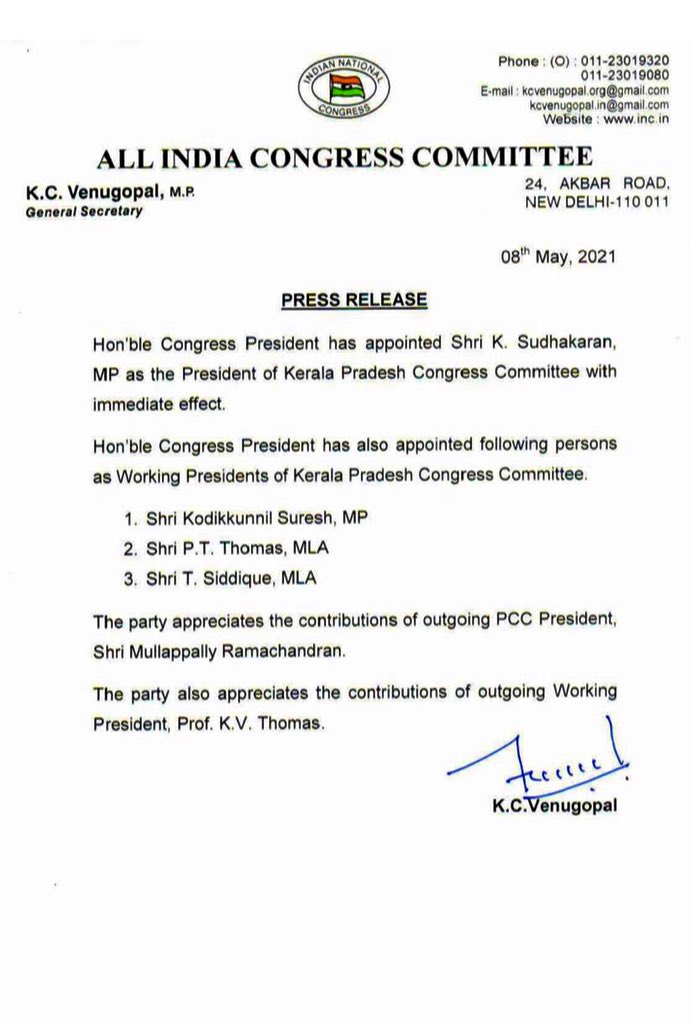 "I'm very happy to hear the party high command's decision. It's a big responsibility to strengthen the party. The Congress will come back with renewed vigour. I will try to unify all the leaders," Sudhakaran told reporters.
K Sudhakaran Biodata, Wiki
K. Sudhakaran was born 7 June 1948 in a small village called Nadal in Kannur district. Shri V. Ramunni and Smt. K. Madhavi are his parents. He completed MA,LLB and also graduated in MA,BA in History from Government Brennen College, Thalassery.
K Sudhakaran is currently serving as Member of Parliament (MP), Lok Sabha from Kannur, Kerala, and a member of Parliamentary Standing Committees on Rural Development and Welfare of OBCs. He represents the Indian National Congress Party. He was also a four-term member in the Kerala Legislative Assembly and represented the Kannur constituency from 1996 to 2009.
Born
7 June 1948 (age 73) Malabar District, Madras State, Dominion of India
(present-day Kannur, Kerala, India)
Nationality
Indian
Political party
Indian National Congress
Spouse(s)
K. Smitha
Children
2
Parents
V. Ramunni, Madhavi
Education
Master of Arts, Bachelor of Laws
Alma mater
Government Brennen College, Thalassery
Occupation
Politician
K Sudhakaran Political Timeline
2021 : Appointed as Kerala Pradesh Congress Committee (KPCC) president.
2019 : Elected to 17th Lok Sabha from Kannur where he defeated P.K.Sreemathy of CPIM by a margin of 94,559 votes.
2009 : Elected to 15th Lok Sabha from Kannur where he defeated K. K Rajesh of CPIM by a margin of 30,000 votes
2009 : Member, Committee on Public Accounts and Member, Committee on Commerce
2001-2004 : Minister of Forest and Wildlife, Government of Kerala
2001 : Minister, Forest, and Sports, Govt. of Kerala
1992 : Member, Kerala Legislative Assembly, 1992–2009 in Kannur constituency.
K Sudhakaran Contact Details
Permanent address – Lal Vihar, P.O. Kizhunna, Distt. Kannur – 670 007, Kerala
Present address – B – 502, M.S. Flats, B.K.S. Marg, New Delhi – 110 001
Email – [email protected]
K Sudhakaran Networth
Net Worth – ₹2.22 CRORE
ASSETS – ₹2.97 CRORE
Liabilities – ₹74.69 LAKHS
Must Read